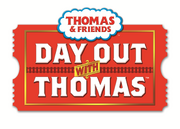 Day Out With Thomas are official Thomas and Friends events at tourist railroads and restoration railways that have been running around the world. Thousands of people have turned out for these highly successful events and among them are largely young children, where they are able to ride in a train pulled by Thomas and other engines. Since 2006, an exclusive Wooden Railway vehicle has been produced annually and sold at these events in the US.
Vehicles
Trivia
Every item released has been a repaint of an existing vehicle.
Ad blocker interference detected!
Wikia is a free-to-use site that makes money from advertising. We have a modified experience for viewers using ad blockers

Wikia is not accessible if you've made further modifications. Remove the custom ad blocker rule(s) and the page will load as expected.