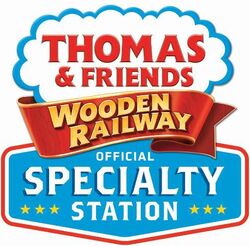 Official Speciality Stations
are special dedicated
Thomas Wooden Railway
store areas which opened in July and August 2014. There are 20 Speciality Stations across the US which display playtables, stock exclusive items, such as the
Sodor Story Collection
, and the ability to create personalised engines. The stores also host launch events and special days, the first of these being a "Welcome Logan" event.
List of stores
California State Railroad Museum, Sacramento, California
Diddams, Mountain View, California
Geppetto's Flower Hill Promenade, Del Mar, California
Totally Thomas, Escondido, California
H & R Trains, Pinellas Park, Florida
America's Best Train Shop, Itasca, Illinois
Berwyn's Toys and Trains Inc., Berwyn, Illinois
Stellabella Toys, Dedham, Massachusetts
Choo Choo Bob, St Paul, Minnesota
The Hobby Shop, Aberdeen, New Jersey
Kidding Around, New York City, New York
Toys & Co., Charlotte, North Carolina
Entertrainment Junction, West Chester, Ohio
Growing Tree Toys, State College, Pennsylvania
Toys On The Square, Hummelstown, Pennsylvania
Smart Toys, Providence, Rhode Island
Wonder Works, Charleston, South Carolina
Brilliant Sky Toys & Books, Brentwood, Tennessee
Toy Maven, Dallas, Texas
Barston's Childs Play, Washington, Washington DC
Gallery
Ad blocker interference detected!
Wikia is a free-to-use site that makes money from advertising. We have a modified experience for viewers using ad blockers

Wikia is not accessible if you've made further modifications. Remove the custom ad blocker rule(s) and the page will load as expected.