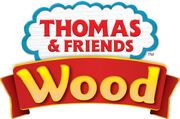 Thomas Wood is a toy range of wooden train sets and vehicles based on Thomas & Friends produced by Fisher-Price. It replaced the Thomas Wooden Railway range in 2017.
History
In late 2017, Thomas Wooden Railway was redesigned into Thomas Wood, using FSC approved premium beech wood. Items were redesigned with details printed on exposed wood, described as a "contemporary" design which "highlights the warmth of wood". The line also features an emphasis on poseable human and animal figures, which can be placed in items such as passenger coaches, cargo cars, and road vehicles. The track system uses a "kid-friendly" design with two way connectors and a standard length, with no specialty pieces. Adapters are included with sets and track packs to connect Wood track to Wooden Railway track.
The range was first exclusively released to Toys "R" Us in the US in September 2017 and Japan in December, with a larger worldwide release in 2018. In August of 2018, it was announced that none of the Summer 2018 items would be released, and that it is likely that the rest of the line will be discontinued. [1]
Gallery