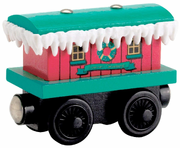 The
Winter Wonderland Caboose
was a piece of rolling stock formerly available. It was sold primarily around the holiday seasons. It is a small brakevan with a red and green livery,
Season's Greetings
banners on the cab, and icicles hanging from the roof. It was sold in the
Thomas Winter Wonderland Train
and it was also sold in specially marked
Home Video Bonus Packs
.
Trivia
Gallery
Ad blocker interference detected!
Wikia is a free-to-use site that makes money from advertising. We have a modified experience for viewers using ad blockers

Wikia is not accessible if you've made further modifications. Remove the custom ad blocker rule(s) and the page will load as expected.